Organizations employ external consultants and suppliers to perform assessments and penetration tests that help to bolster their overall internal security. When carrying out these projects, these contractors are often given a level of privileged access and insight into the most sensitive areas of an organization's infrastructure. These exercises, however, don't serve their envisioned purpose if security reports are made available online for anyone to find. Our recent research paper, "Too Much Information", shines a light on this worrying discovery.
Imagine giving a houseguest or handyworker a set of keys to your home. Now picture these individuals, albeit unwittingly, making copies of these keys and leaving them lying around in public for anyone to get hold of. Similarly, as consultants and pen testers backup and share their work, highly sensitive information such as vulnerability assessments and network diagrams can be left exposed and, crucially, within the reach of malicious actors.
Our analysis of files shared across network sharing services and storage solutions such as Amazon S3 and NAS drives included thousands of instances of security audits (5,794), "network infrastructure" details (1,830) and penetration test reports (694) publicly accessible.

Figure 1: Results for security assessment files and documents
Ready-made reconnaissance
Coming across this type of sensitive information would be like striking gold for an attacker or cybercriminal. Attackers spend months conducting reconnaissance to learn all about their target's security posture, infrastructure layout, deployed technologies, and potential vulnerabilities. This exposure would save them precious time and resources. In some cases, it can even provide them with the type of exclusive information that they would never have learned through passive reconnaissance.
In one instance, we found a series of security documents belonging to a leading European supplier of electronic identification services used within the banking industry. These files included in-depth security assessments, source code testing results, and vulnerability scanning reports that revealed details on insecure servers. These reports exposed server locations and hosting IPs, missing software patches, port information, CVE number and vulnerability descriptions (see Figure 2 below). With this intelligence, an attacker would know what specific technologies and services to target, and could then modify data, inject malicious code, or perform man-in-the middle attacks.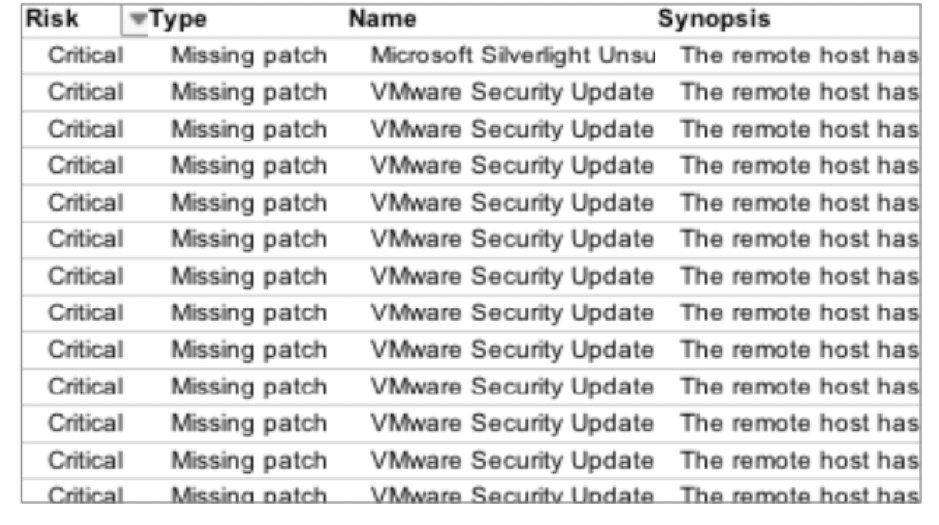 Figure 2: Redacted spreadsheet outlining critical vulnerabilities in banking software
Unintentional insiders and supply chain risk
Organizations typically struggle with security issues that lie outside their direct visibility, beyond their perimeter. This includes employees conducting work-related activities using public devices, or a contractor backing up files to their misconfigured NAS drives. Supply chains and company insiders are therefore a thorn in the side with regards to protecting company data.
It's not just about these individuals work habits when they're outside company networks, even the very process of managing access restrictions for third parties comes with a host of potential pitfalls. We can all imagine situations where we open up network services to move data around or allow a third party temporary access (for example troubleshooting, software support, reporting), but it never gets revoked. Permissions can be confusing, especially when an S3 bucket needs to be open to a select group of individuals but closed to everyone else. This is when mistakes are made.
Given the amount of data exposed in this way, the long-term solution to this problem lies in training and awareness. Organizations can play their part by educating employees, contractors and consultants about the risks of copying and archiving up work files at home. Offering secure-by-default storage solutions so that these individuals don't feel the need to backup their devices at home could also go a long way to preventing this level of exposure.
To learn more about the level of data exposure across the world, as well as useful tips for mitigating these risks, download a copy of our report.
Want more Digital Shadows research? Subscribe to our threat intelligence emails here.